Introduction:
Ever since reservations opened on March 31, 2016, the Tesla Model 3 has been the center of media and analyst attention as much as Tesla and Musk themselves were and continue to be in the spotlight. Our series of Model 3 articles aims to provide as much information as possible about various aspects of this ground-breaking electric car. But our work is not aimed at analysts or the media: it is meant for the average EV buyer to be able to make an informed decision about whether or not to buy a Model 3 over any other EV – or, God forbid, a vehicle with an internal combustion engine!
This part of the series focuses on some of the key specifications of the three currently available variants of the Model 3.
Model 3: Speed, Acceleration and Range
The Model 3's top speeds are software-limited, as on Model S and Model X. Of note is the fact that the EPA tested range for the LR Model 3 RWD was actually higher, but Tesla requested that it be capped at 310 miles so it would be comparable with the higher-end variants.
Model 3 Battery Specifications, Range and Warranty
The current battery on the 2018 Model 3 Long Range is a 75 kWh 350 V lithium-ion pack with a range of 310 miles. The Standard Battery Model 3 will be available in a few months, and will have a 50 kWh battery with a range of 220 miles.
Battery Warranty: "Vehicles with Long Range Battery – 8 years or 120,000 miles (100,000 miles for Standard Range Battery), whichever comes first, with minimum 70% retention of Battery capacity over the warranty period."
Model 3 Charging Details: Home, Superchargers and Wall Connector
Home charging is best done with a Wall Connector that you can purchase online or at a Tesla service center. It comes with a choice of 8.5′ or 24′ cable. Home charging speeds depend on voltage, power at voltage and circuit breaker max. output. The Supercharger network is DC-powered and charges at a much faster rate. Tesla provides whatever you need for on-the-go charging.
New Teslas include the following as standard equipment:
Mobile Connector (20 feet)

Adapter for standard 120 volt household outlets (NEMA 5-15)

Adapter for higher power 240 volt outlet (NEMA 14-50)

Adapter for public charging stations (SAE J1772)

Cable organizing bag
Comparing Tesla Model 3 Interior Options across Models
The Long Range Model 3 RWD only comes with standard black interiors, but the Dual Motor and Performance models now have white as a premium upgrade option. Premium frills are aplenty, but even the standard option comes with dual zone climate control, sat-nav maps and WiFi/Cellular OTA updates.
Tesla Model 3: Upgrades available for customers
All models currently come with a 19″ sports wheel option, but car owners have typically found that bigger tires can reduce range. The best range as verified in tests and seen in real-world conditions comes with the standard 18″ wheels with aero covers. The Performance Upgrade on the M3P is available for $5,000, and Track Mode will only be available if you order that package.
Model 3: Weight, Capacity and Other Specifications
Total enclosed cargo volume – 15 cu ft.

Transmission Type – Single speed fixed gear

Gearbox ratio – 9:1

Steering – Rack and pinion with electronic power steering, speed sensitive

Turning Circle (curb to curb) – 38.8 ft (11.8 m)

Front Calipers: Four piston fixed

Rear Calipers: Integrated Electronic Parking Brake Sliding

Front Suspension: Independent, double wishbone, coil spring/telescopic damper, sway bar

Rear Suspension: Independent, multi-link, coil spring/telescopic damper
Trunk capacity is considerable, but the front trunk, or "frunk", is interesting because Tesla says it can fit an airplane carry-on suitcase: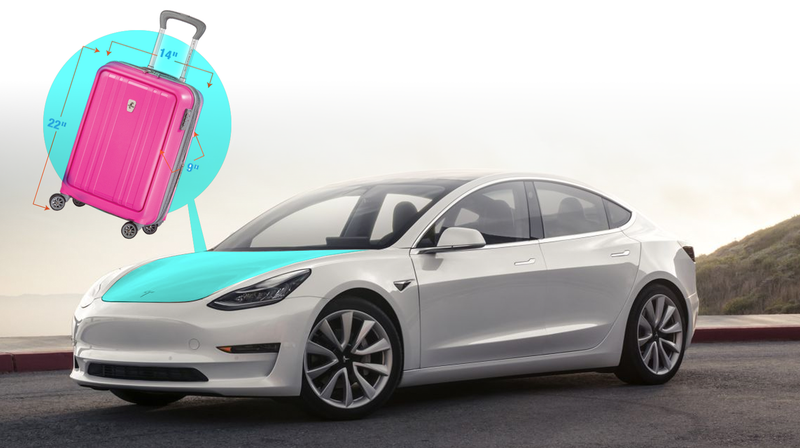 The total available enclosed storage volume is about half that of Model S (30 cu ft) and several times smaller than Model X (88 cu ft.)
Model 3: Interior and Exterior Dimensions
Exterior dimensions are identical for all variants because they're all made on the same third-generation manufacturing platform that is expected to be used for the Model Y. Ground clearance is fairly decent (140mm) for a sedan this size; a little less than what you'd get on the BMW 5-Series (158mm) and 3-Series (157mm.)
Model 3 Software and Hardware Specifications
Tesla software will be updated to v9.0 in September 2018. Version 9 is the update that promises to start introducing FSD (full self-driving capability) features. A full feature-set for FSD will only come in v10.0.
FSD itself will require an upgrade to Hardware 3.0, and that's only expected to arrive either before Christmas 2018 (earliest), or in February 2019 (latest.) The Hardware 3.0 upgrade won't be required for customers with the EAP package, only the EAP+FSD package, which comes at a combined price of $8000 if ordered prior to delivery, or as a $10,500 upgrade after delivery.
What to Expect in Tesla Software Update v9.0
We published a list of possibilities earlier, reproduced here:
FSD – Full Self-Driving – Musk has promised this, so let's wait and see. Could require a paid hardware upgrade for Model 3. This is just the beginning of the rollout, so don't expect full autonomous capabilities just yet. That may only come with v10.0 or later.

Tesla Maps could see a much fuller release with 9.0

The IC in the side mirrors may show tiny cars in blind spots

360-degree surround camera view – already trialed

In-car WiFi hotspot (not likely for Model 3 but since Supercharger billing for overages is set up on S and X and has been for more than a year now, these models might get their hotspot capability. Musk initially tweeted that it was billing constraints, and not technical considerations, that prevented this feature from being introduced)

Dashcam function – already trialed, could be close to release

Atari games (the image was on Tesla site but later pulled, so this is sort of confirmed)