Android rooting has been popular for a very long time, but has it outlived its use? That's a big question to answer because hardcore Android enthusiasts still consider rooting to be the most elegant way to customize their device. In reality, however, rooting was much more useful in the past when Android was in its nascency and the app ecosystem was little more than a jumble of good, bad and outright ugly apps.
That is no longer the case.
With more recent versions of Android, starting from Android 7.0 Nougat onwards, Google's developers started focusing more on the app experience, giving app developers more tools than ever before to control how their apps behave. The company also focused on other important things like design and how apps behaved in the background.
So many changes have been introduced from that point on, and Android 10.0 Q (currently in beta) now brings in a whole bunch of features focused on the user and their app experience.
In such a scenario, rooting is quickly becoming obsolete. I know that many root enthusiasts will vehemently disagree with this POV, but the way things stand, there's more to lose than there is to gain by rooting your phone – especially if it's a premium Android device that costs hundreds of dollars.
To drive that point home, the APK method of sideloading apps is quickly replacing the need to root your Android. As long as you have a comprehensive app installer that also acts as a repository for Play Store and modified apps, you no longer need to worry about malicious APKs from questionable sources.
Enter ACMarket, the app installer that offers a whole range of choices without the need to root your Android smartphone or tablet. With this app on your Android device, you will probably never find the need to root your phone or tablet ever again. And I don't say it lightly.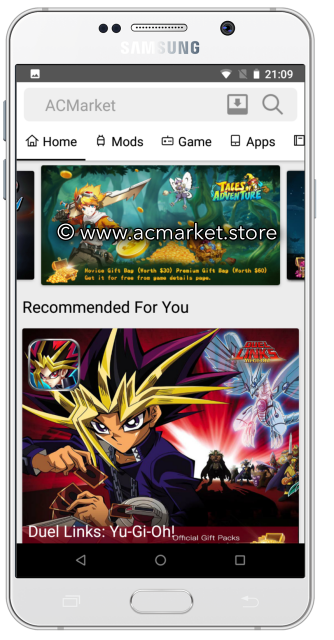 ACMarket is essentially an app installer and an APK repository rolled into one. What makes it even more capable is that using it on iOS allows you to sideload IPA files to enjoy a jailbreak-like experience without having to jailbreak your iPhone or iPad. To top it off, ACMarket has thousands of apps that are found in the Play Store as well.
As such, it is one of the most comprehensive utilities for Android, offering a choice selection of games, apps, productivity tools, themes and whatever else you need to help you mitigate the symptoms of 'rooting withdrawal'!
How to Install the ACMarket App

ACMarket is available for Android, iOS, Windows and Mac OS X / macOS. The installation method is slightly different for each operating system, but once you've installed it, the usage is mostly uniform across all platforms. The next couple of sections shows you how to install it in Android and iOS devices.
Install in Android with APK
Step 1: Go to Settings > Security > Unknown Sources and tick the box next to it. Note: This is the standard procedure to follow before sideloading any application package to your device.
Step 2: Once you go to the home page of ACMarket, head to the Download page from the main menu at the top. Once you're there, you'll see a linked button for the APK file. Download the file to your Android device.
Step 3: Click on Open against the downloaded file. You'll see a notification telling you that the app does not require any extra access. Confirm to install the app. You can open it from the dialog page displayed, or go to the app drawer and drag it to your home screen, then tap it to open the app.
Step 4: Grant the necessary permissions when you open ACMarket for the first time, and you're all set to download from an enviable choice of games and other apps.
If you run into any issues, try tapping on one of the help links in the Download page where you got the APK file. All known issues have been addressed there.
Install on iPhone
It's even simpler to get ACMarket on your iPhone, and it DOES NOT REQUIRE A JAILBREAK. Just follow the steps outlined below:
Step 1: Go to the iOS download page on your iPhone and tap on the linked button that says ACMarket iOS Store.
Step 2: When the page is loading, you'll see an expandable menu as an icon that looks like a box with and UP arrow. Tap on that and select Add to Home Screen.
Step 3: Type in ACMarket in the box that pops up, and tap on Add. This will put the app on your home screen.
Step 4: Tapping on the app icon will take you directly to the store, from where you can download all the available apps and games.
Note: At the bottom of the iOS download page you'll see links for how to fix known issues. In case you get stuck, that's a good resource.
What Apps Can I Get on My Android or iOS Device with ACMarket?
As I mentioned earlier, ACMarket is not only an app installer, but an app store unto itself. In addition to modified versions of popular apps like Snapchat, Instagram, Facebook, Spotify and so on, you'll also see stock apps that you can find on Play Store. It's just more convenient to have everything in one place. You also have access to a lot of games, themes, productivity apps and lots more.
The store is categorized by app type, and you'll see a Mods tab where all the modified/tweaked apps can be found.
So, if you're ready to give up rooting as a hobby, sideloading is definitely your thing. Get ACMarket, and you'll never have to worry about getting access to third-party apps ever again.
Our research on third-party repositories for Android also yielded the following results. You can try them and see how they work for you. Most of them are curated collections of great apps, and they allow you to download APKs directly or through the original developer's site. Once you have it, you can install the app using the regular sideload method. Here they are in no particular order:
AppBrain App Market
SlideME
1Mobile
Apptoide
GetJar
Know of other Android, iOS or cross-platform open app stores with lots of great apps? Let our readers know in the comments section.