Organizing a rental bus party for family, friends, or colleagues? Don't forget to decorate your party bus while traveling to Clearwater, Florida, Las Vegas Nevada, or any one of the hundreds of locations across the country that promise fun, relaxation, and the ability to let your hair down.
1. Banners
One idea to spruce up a party bus that you are using for an occasion is by the use of banners. Banners are simple and give the bus a feeling of festivity, keeping the focus on the theme of the party. The banners should be custom made to suit the party and they should have the right words written on them so that they can help pass the right message across. Banners can be put up on the exterior of the party bus, on either side or even inside where guests can easily see them when they get on the bus. Banners are also a good idea for decoration for corporate parties where excessive decoration is frowned upon.
2. Party favors
Party favors are also a good alternative for parties where excessive decoration is disapproved. Party favors are easy to match with events, which makes them appropriate to use for any type of party. Party favors can also be used as gift giveaways where you can put treats inside small colorful bags and place them on all seats before the guests arrive for the party. Party favors can also be set on one central spot which is highlighted for easy access, and where guests are encouraged to take one home with them.
3. Balloons
Balloons are one of the easiest and most commonly used decoration ideas used on party buses. Balloons come in various sizes and colors, therefore, give the party a pop of color. Balloons can also be hung depending on the theme of the party; if it is a bachelor or bachelorette party, the balloons hung can be synchronized with the wedding colors; children's parties can have bright colors which will get their attention and liven the party. You can also tie ribbons to the ends of the balloons to add some flare to the decorations.
4. Streamers
Party streamers can also be used as party decorations inside a party bus. In fact, serpentine streamers are the way to go, as people can play with them adding cheer to the room, or even just hung together with the other decorations. The good thing with streamers is that they are versatile and can be used in many ways. You and your guests can blow on the streamers, which roll out and produce sound. Additionally, streamers can be cut up into small pieces which can then be strewn around like confetti. However, you have to discuss with the party bus rental company to determine whether the use of confetti is okay since they may not want the bus extremely dirty when it is returned.
5. Lights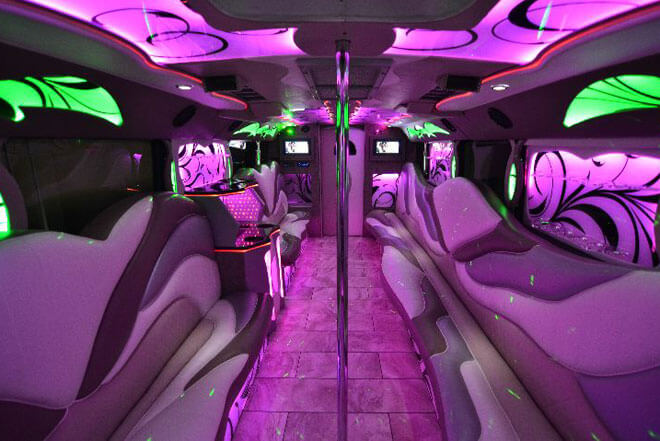 If there is something that sets a partying mood, it is the lighting. Personalized glow sticks are a great idea because they'll set the right atmosphere for a night of frivolity. Also, having the right lights in the party bus can improve the morale of the partiers, making it livelier. The lights that are often used in parties are bright multi-colored lights, especially when used with a revolving ball. If these lights are not available, however, you can use your own string lights which you can hang across the bus' ceiling giving it a warm and welcoming party glow.