March 31st is World Backup Day. If you don't know what that is, it's a project started by data enthusiasts who believe in "preserving our increasingly digital heritage and cultural works for future generations." The project's aim is simple: educate people about the importance of backing up their data and get them to do it. Now.
Data is truly the currency of our generation. Did you know that the world has already raced past creating 2.5 quintillion bytes of data PER DAY? In figures, that's 2,500,000,000,000,000 bytes or 2.5 million GB. Every day, no less.
But what we're talking about here is personal data. Those thousands of photos you have sitting on your hard drive, the many hundreds of video clips that capture priceless moments in your family's journey through life, the playlists that helped you travel to far off places or experience love, anger and longing.
Backing up personal data is a very important action that very few people take their entire lives. If all of that data is lost, it's a lifetime's worth of memories gone in a heartbeat.
You need to avoid that at all cost, and to help you with that is EaseUS Todo Backup Home v11.5. EaseUS is a renowned company focused on making products that preserve data – in the spirit of World Backup Day. The release of the new version marks a significant milestone, and EaseUS is encouraging home users to keep their data safe by offering an unheard-of 50% discount on all products and bundles.
What Can EaseUS Todo Backup Home 11.5 Do?
A simple backup can be done locally to an external hard drive, USB stick, DVD, BRD or any other storage medium with enough space to hold the data being backed up. There are also a number of cloud options to upload your data in a way that doesn't break your bank.
But the real problem is that most people consider it to be a chore, hence putting it off until it's too late. Todo Backup Home helps you avoid such procrastination by providing a high level of automation. Here are just a few of the features that give you versatility and flexibility:
Faster backup and restore speeds
System-level to file-level and email backups – with recovery options for a quick turnaround
Multiple backup modes – full, differential and incremental.
Free trial version available
If you want to go a step further and secure your home office computers, you can also try EaseUS Todo Workstation, which offers all these additional features for just $10 more than the Home version.
Automated periodic file and system backups from OS to files and images
Clone your entire system, hard drive or just some partitions – makes transitioning to new hardware super-simple
Full system recovery from a backup when there's a major crash or virus attack – be up and running again in minutes instead of hours and days
Affordable for the average home user – and now with a massive discount on bundles and products for World Backup Day
Email backups for Outlook – preserve your inbox or specific folders
Cloud backups to a service of your choice – all major providers covered
Recover full system image to dissimilar hardware
Custom time and event-based scheduling with a full reporting suite to stay on top of your backups at all times; flexible scheduling of backups with full, differential and incremental options
Pre-OS environment to boot from and recover data in case your OS fails to boot
Free trial version available
Version 11.5 also brings the ability to recover an Outlook backup to a different Outlook client or computer. You can also add more drivers when creating emergency disks for recovery.
EaseUS Todo Home and Workstation backup software has an intuitive interface to keep the learning curve as gentle as possible. Even if you've never done a backup in your life, the software makes it easy for you. You can quickly do an immediate backup of everything, or just the data you want to preserve and set a schedule for backups. That way it becomes a done job that you won't have to repeat over and over.
Here's how to do a simple backup of all your data in just a few minutes using Todo Backup Home:
Step 1: Download and install the software on your PC. Launch Todo Backup Home
Step 2: In the software interface, select all files and folders to be backed up and choose your destination drive or device.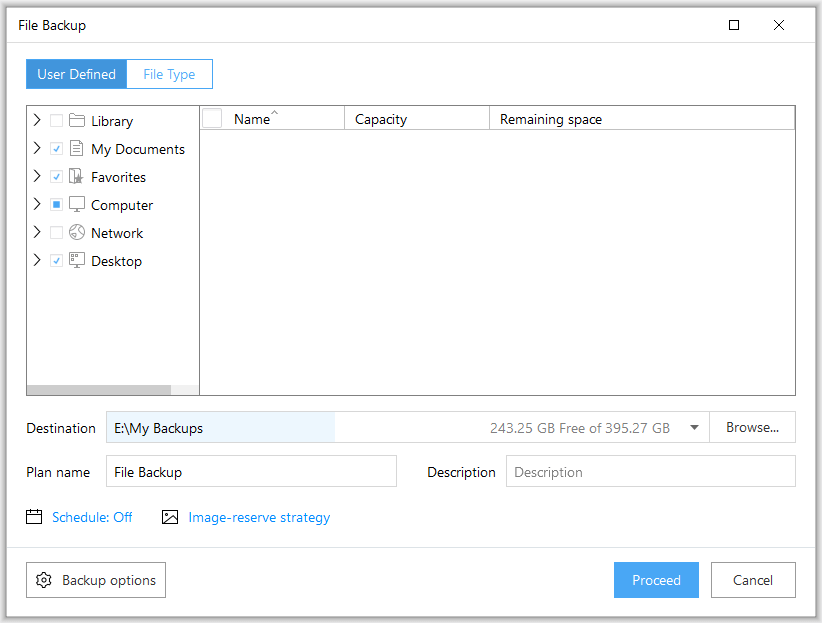 Step 3: Set schedules, name your plan and give a brief description so you'll know later what it is. Click Proceed and your backup is underway!
You can do system, disk and partition backups just as easily. Use Smart Backup as a one-click option to customize what to backup. That's all there is to it.
The goal of EaseUS is simple: make the data backup and recovery process truly simple and within reach of the average computer user. And in our opinion, they have far surpassed that goal and created tools that make lives easier and put minds at ease over data concerns – at a very affordable price point, no less.
No more worrying about a damaged drive or malware attack upending your life. No more wondering how quickly you can be up and running if your data is accidentally wiped. Real peace of mind can only come with software that folds into our lives effortlessly so we don't even notice it's there…and EaseUS Todo Backup more than qualifies on that front.
So don't waste any more time worrying about data. Take advantage of World Backup Day and do your backup at half price today with EaseUS Todo Backup Home 11.5.