Tesla Model 3
Tesla Model 3 is a Small/Midsize luxury all-electric sedan manufactured by Tesla, Inc, and introduced on March 31, 2016. The EPA official range for 2018 Tesla Model 3 Long Range Rear-Wheel drive model is 310 miles, which is slightly lower than Model S 100D which offers an EPA range of 335 miles. As of September 2018, Tesla builds and delivers three versions of Model 3, Long Range Rear-Wheel Drive, Dual Motor All-Wheel Drive and Dual Motor Performance. Tesla started delivering Long Range Rear-Wheel Drive Model 3 in July 2017 and stopped accepting orders for the model in the third week of October, while delivery of All-Wheel Drive and Performance editions began in July 2018. Tesla launched the "mid-range" Rear Wheel Drive Model 3 that offered 260 miles range on October 19th,2018.
In May 2018, Consumer Reports refused to give a recommended rating for Tesla Model 3 as test results showed stopping distances were significantly longer than comparable cars. Consumer Reports cited braking distance and other issues for not giving Tesla Model 3 the coveted rating. Tesla improved braking distance by almost 20 feet through an over-the-air software update. Consumer Reports changed its rating to recommended by the end of May, 2018.
In July 2018, Tesla sold a record 14,250 Model 3s and broke into the top ten passenger cars by sales in United States. Tesla Model 3 became the 5th best selling passenger car in United States in August 2018.
Tesla Model 3 was the number one selling plug-in electric car in the United States since the start of 2018.
Tesla CEO Elon Musk unveiled Model 3 at Space X campus in Hawthorne, California on March 31, 2016. The same day Tesla started accepting $1,000 as deposits from customers who wanted to reserve Tesla Model 3.
Elon Musk revealed during the event that 115,000 customers had pre-ordered Tesla, which grew to 134,000 in 24 hours, 325,000 within a week, 455,000 by August 2017 and around 420,000 by June 2018.
At the time of launch Elon Musk said that the Model 3 base model will get at least 215 miles per charge, start at $35,000 and the car will do 0-60 in under 6 seconds. Musk also said that Tesla will increase supercharger stations from 3,600 to 7,200 by the end of 2017.
Tesla started production of Model 3 in the middle of 2017. The first production vehicle, a black Model 3, rolled out of Tesla factory in Fremont on July 7, 2017. Tesla CEO Elon Musk become the first owner of a Model 3.On July 28th, Tesla delivered Model 3 to 30 customers. At the delivery event, Tesla CEO Elon Musk told reporters, "This is a great day for Tesla. It was never our goal just to make expensive cars. We wanted to make cars everyone could buy."
Tesla had ambitious plans to ramp up Model 3 production. According to original plans the company wanted to build 100 Model 3s in August 2017, increase production to 1,500 cars in September and reach production capacity of 20,000 units per month by December 2017. Tesla failed to reach its exponential growth plans, building just 260 Model 3s during the third quarter of 2017, between July-18 and September-18, they built way less than the 1,600 units the company wanted to build. Tesla's production struggles continued during the fourth quarter of 2017; between October and December, they built 2,425 Model 3s for the quarter (Q4). Tesla blamed manufacturing bottlenecks for the slowdown. In its fourth quarter 2017 letter to shareholders, the company cited battery production issues at the Gigafactory as one of the reasons for the delay in production. Tesla subsequently lowered its production estimates, and the company announced that it will "target weekly Model 3 production rates of 2,500 by the end of Q1 and 5,000 by the end of Q2".
Tesla took several initiatives to increase its production. The company added a new assembly line – GA4, or General Assembly 4 – under a tent, or Sprung Structure, to help it quickly reach its production target. Tesla produced 53,239 Model 3 vehicles in the third quarter, while delivering 55,840 Model 3s. In Q3, Tesla delivered delivered  twice as many Model 3s as they did in all previous quarters combined.
Read latest and more detailed Model 3 production Updates here
Tesla delivered the first Model 3 to CEO Elon Musk on July 7th, 2017, while the first batch of 30 customers took delivery of Model 3 in the last week of July.
Delivery Milestones:
July 7th, 2017: First car is delivered to Tesla CEO Elon Musk

July 28th, 2017: The first batch of 30 customers take delivery of Model 3.

September 30, 2017: Tesla delivers 222 Model 3s during Q3-2017

December 31, 2017: Tesla delivers 1,542 Model 3s during Q4-2017

March 31, 2018: Tesla delivers 9,766 Model 3s during Q1-2018

May, 2018: Tesla begins Model 3 delivery in Canada

June 28, 2018: Tesla invites all North American reservation holders to order Model 3

June 30, 2018: Tesla delivers 18,449 Model 3s in Q2-2018

July 9, 2018: Tesla drops reservation system and allows anyone to place a direct order for Model 3

July 28, 2018: Tesla starts delivery of Model 3 Performance and Dual Motor All-Wheel-Drive Editions

July 28, 2018: Tesla delivers 55,840 Model 3s in Q3-2018

October 19, 2018: Tesla launches "Mid-Range" Rear Wheel Drive Model 3 
Model 3: Current Delivery Timelines
For North American customers, Tesla has regularly updated delivery timelines and the company now expects to deliver Model 3 in less than two weeks. As of December 15th, 2018, Tesla is still taking orders for delivery in 2018. 
Tesla plans to begin deliveries of Model 3 in Europe and Asia during the first half of 2019 (left hand drive countries), while deliveries to right hand drive countries are expected in the middle of 2019. Tesla expects to start European deliveries of dual motor editions by early February 2019. 
Tesla Delivery Model:
Tesla owns its sales and delivery network. Though Tesla has stores and galleries spread across the United States, the stores are only used to display Tesla products – not for sales and delivery. Tesla opened several delivery centers to help the company deliver cars to its customers. With the introduction of the "Sign and Drive" program, the company has cut delivery time per car to about five minutes. Dealership walkthroughs have been replaced with an email containing video tutorials.
Delivery Options: 
Tesla customers can pick up their car from a service center that is closest to their location. Home delivery of vehicles is offered to customers who live more than 160 miles away from the nearest service center. Tesla requires full payment before shipping the car. Once payment is made, a window for delivery is then provided to the customer.
Model 3 Delivery Data: Q2-2017 to Q2-2018
A total of 28,390 Model 3s were delivered to customers until June 30, 2018. Tesla has guided for producing 50,000 to 55,000 Model 3s during the third quarter ending on September 30, 2018, and expects Model 3 deliveries to outpace production during the quarter. Estimates by InsideEv's show that Tesla Model 3 was the number one plug-in car by sales in the United States, selling 14,250 units in July and 17,800 units in August. Model 3 remains the number one plug-in by sales in the United States since January 2018.  
Read more on Tesla Delivery/Sales here
Tesla Model 3 is the fourth best selling car in the United States. According to estimates by CleanTechnica, Tesla sold 24,040 Model 3s in September giving them the fourth position in the country. The top three positions went to  Toyota Camry (27,640 units), Honda Accord (24,806) and Honda Civic (24,806). – 1redDrop
Tesla, a relatively small auto manufacturer in terms of production volume, covers its weakness by selling different versions of the same model across a wide price range. Tesla Model 3 Performance edition's price goes all the way to $80,500 when all the available options are added, and the company is planning to launch a standard battery version with a starting price of $35,000.
Model 3 Price Range: $35,000 (expected) to $80,500
Model 3's stretched pricing pits Tesla's lowest priced sedan against these: BMW 3,4,5 and 6 series; Mercedes C Class, E Class and CLS Coupe; Audi A3,S3 to A7,S7.
Apart from the German trio, there are plenty of players in the $35,000 to $80,000 price range, including Lexus, Toyota, Infiniti, Acura, Lincoln and many more.
Tesla Model 3: Market Size
Tesla Model 3 will be primarily competing in the small and mid-size luxury passenger car markets around the world. Tesla plans to begin deliveries of Model 3 in Europe and Asia during the first half of 2019 (left hand drive countries), while deliveries to right hand drive countries are expected in the middle of 2019.
United States
In the United States, the small luxury passenger car segment reported sales of 459,665 units in 2017, while the midsize luxury passenger car segment reported sales of 296,117. A grand total of 755,782 units for the year, a weekly average of 14,534 units.
China
In China, the premium passenger car segment is expected to account for 6% to 7% of overall auto sales through 2025. In 2017, China reported 28.87 million unit sales. At 6%, the luxury passenger car segment is worth a little more than 1.6 million units annually.
Europe
In Europe, sales for the premium mid-size car segment reached 694,030 units in 2017, while the premium large-size car segment reported sales of 422,525units.
Top Tesla Model 3 Trade-ins in 2018
The top five trade-ins for new Model 3s were The Toyota Prius, the BMW 3 Series, the Honda Accord, the Honda Civic and the Nissan Leaf, the comapany revealed during the second quarter earnings call.
"It's just interesting that people are trading up into a Tesla, so people are willing to spend more money on a Tesla than the value of their current car," said Tesla CEO Elon Musk.
Though the Tesla Model 3 competes in the luxury mid-size and small passenger car segments, the trade-ins revealed by the company shows that customers several segments below are buying the car, thereby expanding Model 3's potential market size.
At the time of Model 3 launch, Tesla said that it expects 5 star safety ratings for Model 3. Tesla CEO Elon Musk who walked his audience through a crash test video during the launch said, "The Volvo S60 is arguably the second safest car in the world".
Tesla Model 3 has been in production for just over a year and official crash testing data from NHSTA is yet to be released, while IIHS is still testing the vehicle.
Tesla Model 3 Standard Safety Features:
Eight airbags (Knee, front, seat-mounted and curtain)

Electronic stability and traction control

Anti-lock braking system

Automatic emergency braking and collision avoidance

Stolen vehicle tracking

Automatic exterior lights

Blind spot sensor

Lane departure warning

Park Assist

Seatbelt pre-tensioners (Driver and front passenger)

Shoulder pre-tensioners (Rear outboard seats)

Child protection lock (Rear seats)

Tire pressure monitor

Interior emergency trunk release (Front and rear)

Range Assurance (Model 3 continuously monitors its energy level and proximity to known charging locations)

Speed Assist (Speed limit warning)

Tesla Roadside Assistance (Available 24 hours a day, 365 days a year, for the duration of warranty period).
According to Tesla, the metal structure used to build Model 3 is a combination of aluminium and steel. The company says that in a roof crush test "Model 3 resisted four times its own mass, even with an all-glass roof.
"The position and weight of the floor-mounted battery pack provides a very low, solid center of gravity—allowing for a low rollover". – Tesla
Tesla's new 2170 battery cells, which according to CEO Elon Musk has the highest energy density, reduced the weight of the battery pack without sacrificing the car's range. Model 3 battery pack is 15% lighter than Model S 85 kWh battery and 6% lighter than Model S P100D.
According to InsideEVs, "In the Model S, the heavy battery case provides the crash protection for the battery with minimal high strength steel. The case in model S is solid metal ¼" thick."
But Tesla made a lot of structural changes to Model 3 design. Unlike Model S, AC Charger and DC converter are integrated in Model 3's battery pack. Model 3 now uses high strength steel in the body to protect the battery pack from impact.
The Insurance Institute for Highway Safety (IIHS) initial Tesla Model 3 safety results:
The IIHS, which is still conducting Model 3 crash and safety testing released two (front crash prevention and headlights) out of seven ratings in May 2018. The Institute recently examined driver assistance features of Tesla Model S, Tesla Model 3, BMW 5 Series, Mercedes-Benz E-Class, and Volvo S90, and released its findings on August 7th, 2018.
Tesla Model 3 received "Superior" (highest possible rating) and "Acceptable" rating for front crash avoidance and Headlights respectively.
Model 3 Rear Wheel Drive Long Range Battery Reviews
TopGear: 
Verdict: The way it drives is genuinely satisfying, certainly more so than the Model S despite being several yards slower, which elevates it from being an appliance to something worth investigating for the likes of you and I. The Model 3 is a convincing product.
---
Consumer Reports: 
The Model 3 delivers impressive acceleration and handling, a long driving range, and low running costs. But the thrill is tempered by its distracting controls, overly stiff ride, and uncomfortable rear seat. This EV rushes to 60 mph in 5.3 seconds, and in CR testing, our Long Range Model 3 met its EPA rating of 310 miles.
Verdict: CR Recommends Model 3
---
Auto Express: 
Verdict: This is the Tesla to buy, full of EV pep and at a more affordable price. It competes well with other sports saloons around the same price point and looks future-proofed when it comes to self-driving tech. The wait for delivery is by far the biggest drawback – and the knowledge that there will be lots of fresh rivals by the time your Model 3 turns up.
---
MotorTrend: 
Key points: For a compact car, the Model 3 feels incredibly light and airy.If anybody was expecting a typical boring electric sedan here, nope. The ride is Alfa Giulia (maybe even Quadrifoglio)-firm. The steering ratio is quick, the effort is light. With the Tesla Model 3's performance, slinky style, fascinating creativity, and, critically, its Supercharger safety net, I think this is truly where it begins.
---
Edmunds: 
Key Points: We will note that we've had some trouble with a 2017 Tesla Model 3 that we've bought and are testing for a year. You can read about the maintenance issues we've encountered in our Tesla 3 Long-Term Road Test. It's just a sample size of one, but we also encountered reliability problems with our Tesla Model S and X test cars. Then again, Tesla has typically improved its cars' reliability over time.
---
CarandDriver: 
Key Points: Like the BMW and the Benz, it's rear-wheel drive in base form, and its electric motor's output is similar to that of certain turbo four-cylinder versions of those sedans: 221 horsepower and an estimated 302 lb-ft of torque. Push the Model 3 a bit closer to its handling limits, as we did on our 10Best loop, and the tires give up early and understeer becomes the predominant dynamic trait.
Verdict: Although it shows promising flashes of cleverness in its execution, the Model 3 in its current form feels just shy of complete. What's more, at $50,000 and up, it also falls short of its mission to provide affordable and accessible electric motoring to a wide spectrum of the population. As much as Tesla has achieved here in creating a nicely integrated, capable, and relatively fun entry-luxury EV, we're still left waiting—along with all those hopeful would-be owners—for the Model 3 to change the world.
---
Model 3 Dual Motor Performance Edition
Wall Street Journal: 
Key Points: But the car is a star. Doubters will have to bring it. Show me another car with an all-glass roof and five-star rollover crash rating. Point out another $80,000 sedan that out-clouds a Rolls-Royce, out-punches a Porsche Boxster and gets an electric equivalent of 116 mpg. You can't, unless you're building something in your garage we don't know about.
Alas, the Model 3's minimalist interior is rudely interrupted by the aforementioned touch screen, a big tablet suspended on a pylon in the middle of the dash. Also, the Model 3's A pillars are too thick, blocking the very best views of my next overcooked hairpin.
---
TopGear: 
Key Points: Despite the well-publicised production travails, the Model 3 feels perfectly well put together. Still some way shy of an Audi, BMW, Mercedes or Lexus, but way better than expected. But it ain't cheap. It helps to twiddle your mind-set to the same one you employ should you be thinking about a BMW M3 or Mercedes AMG C63.
Verdict:Are you converted? Pretty much. The Model 3 Performance is a blast. Whether you're a Tesla – and Elon – fanboy or girl, this thing makes a major case for itself on its own merits. During the next 12 months and beyond, the big automotive OEMs will be unleashing their pure-EV rivals. The Model 3 is combat-ready.
---
MotorTrend: 
Key Points: We pile into the compact confines of the Model 3, which looks the same as any other, except for having a combined 450 hp and 471 lb-ft of torque. That sort of power should put its performance on par with a BMW M3 super sedan.
In maybe 120 wheel revolutions, a high-performance hierarchy has been rattled. The European marques perennially atop the sport sedan podium are about to have trapdoors release beneath them.
It's pure jungle cat.
Verdict: Back at the office, our 45 minutes spent, editor-in-chief Ed Loh opined that the sport sedan category isn't as important as it used to be, due to the rise of crossovers. True. But with the appearance of electrically powered AWD, the Model 3 is playing a grand finale that's going to be epic.
As is the case with all Tesla cars, Model 3s battery pack lies closer to the floor, integrated into the flat floor-like chassis of the car. Model 3 holds a floor-mounted 400 volt, 80.5kWh lithium-ion high voltage battery.
Model 3's battery pack is estimated to weigh around 1,054 pounds(480 kg). For Model 3, Tesla uses 2170 cells, a battery cell format with a new chemistry. Tesla uses 18650 cells for Model S and Model X. The 21-70 cells, 21mm in diameter and 70mm in length, is bigger than the 18-65 cells, 18mm diameter and 70mm in length.
According to Tesla, "Cells used in Model 3 are the highest energy density cells used in any electric vehicle. We have achieved this by significantly reducing cobalt content per battery pack while increasing nickel content and still maintaining superior thermal stability. The cobalt content of our Nickel-Cobalt-Aluminum cathode chemistry is already lower than next-generation cathodes that will be made by other cell producers with a Nickel-Manganese-Cobalt ratio of 8:1:1. As a result, even with its battery, the gross weight of Model 3 is on par with its gasoline-powered counterparts."
To accommodate the bigger size of the 2170 cells, Tesla designed a new battery pack architecture for its low cost sedan. Unlike Model S, Tesla attached its high-voltage electronics systems such as the battery management system (BMS), controllers, fuses and DC converters to Model 3's battery pack.
Tesla builds charging equipment specifically designed to charge Model 3. The $500 Tesla Wall Connector, which can be installed in the garage remains the fastest way to charge Model 3 at homes.
Model 3 comes with a Mobile Connector and the adapter required to plug-in for charging.
"To protect against a complete discharge, Model 3 enters a low-power consumption mode when the displayed charge level drops to approximately 0%. In this mode, the Battery stops supporting the onboard electronics and auxiliary 12V battery. Once this low-power consumption mode is active, immediately plug in Model 3 to prevent a jump-start and 12V battery replacement."
Model 3 Charging Details: Home, Superchargers and Wall Connector
Home charging is best done with a Wall Connector that can be purchased online or at a Tesla service center. It comes with a choice of 8.5′ or 24′ cable. Home charging speeds depend on voltage, power at voltage and circuit breaker max. output. The Supercharger network is DC-powered and charges at a much faster rate. Tesla provides all the equipment needed for on-the-go charging.
New Teslas include the following as standard equipment:
Mobile Connector (20 feet)

Adapter for standard 120 volt household outlets (NEMA 5-15)

Adapter for higher power 240 volt outlet (NEMA 14-50)

Adapter for public charging stations (SAE J1772)

Cable organizing bag
Other Important Details:
According to Tesla, the best way to preserve the battery pack is to leave the car plugged in when not in use.

Model 3 battery may discharge at a rate of approximately 1% per day.

Discharging the battery to 0% may result in damage to vehicle components.

To improve long-term performance of the battery pack, Tesla recommends customers to avoid exposing Model 3 to ambient temperatures above 140° F (60° C) or below -22° F (-30° C) for more than 24 hours at a time.

Battery pack requires no owner maintenance

If Model 3 detects unexpected input power fluctuations while charging, the charging current is automatically reduced by 25%.
Vehicles with Long Range Battery – 8 years or 120,000 miles (100,000 miles for Standard Range Battery), whichever comes first, with minimum 70% retention of Battery capacity over the warranty period.
Vehicles with Standard Range Battery – 8 years or 100,000 miles (160,000 km), whichever comes first, with minimum 70% retention of Battery capacity over the warranty period.
Model 3 is protected by a New Vehicle Limited Warranty for 4 years or 50,000 miles (80,000 km), whichever comes first.
Specifications of the three currently available variants of the Model 3.
Model 3: Speed, Acceleration and Range
The Model 3's top speeds are software-limited, as on Model S and Model X. Of note is the fact that the EPA tested range for the LR Model 3 RWD was actually higher, but Tesla requested that it be capped at 310 miles so it would be comparable with the higher-end variants.
Comparing Tesla Model 3 Interior Options across Models
The Long Range Model 3 RWD only comes with standard black interiors, but the Dual Motor and Performance models now have white as a premium upgrade option. Premium frills are aplenty, but even the standard option comes with dual zone climate control, sat-nav maps and WiFi/Cellular OTA updates.
Tesla Model 3: Upgrades available for customers
All models currently come with a 19″ sports wheel option, but car owners have typically found that bigger tires can reduce range. The best range as verified in tests and seen in real-world conditions comes with the standard 18″ wheels with aero covers. The Performance Upgrade on the M3P is available for $5,000, and Track Mode will only be available if you order that package.
Model 3: Weight, Capacity and Other Specifications
Total enclosed cargo volume – 15 cu ft.

Transmission Type – Single speed fixed gear

Gearbox ratio – 9:1

Steering – Rack and pinion with electronic power steering, speed sensitive

Turning Circle (curb to curb) – 38.8 ft (11.8 m)

Front Calipers: Four piston fixed

Rear Calipers: Integrated Electronic Parking Brake Sliding

Front Suspension: Independent, double wishbone, coil spring/telescopic damper, sway bar

Rear Suspension: Independent, multi-link, coil spring/telescopic damper
Trunk capacity is considerable, but the front trunk, or "frunk", is interesting because Tesla says it can fit an airplane carry-on suitcase: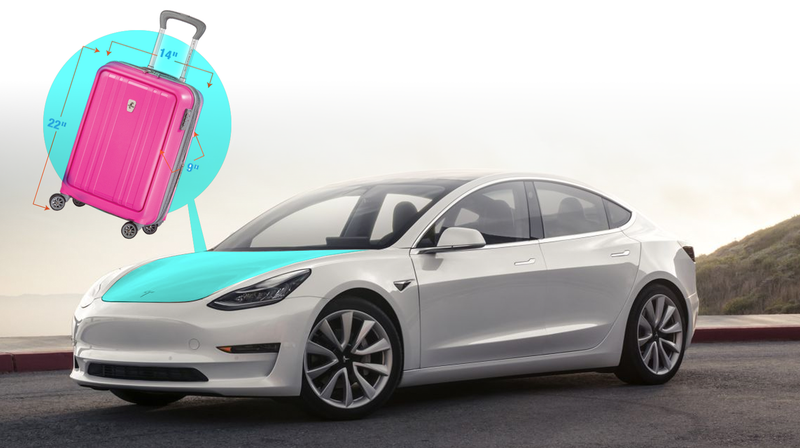 The total available enclosed storage volume is about half that of Model S (30 cu ft) and several times smaller than Model X (88 cu ft.)
Model 3: Interior and Exterior Dimensions
Exterior dimensions are identical for all variants because they're all made on the same third-generation manufacturing platform that is expected to be used for the Model Y. Ground clearance is fairly decent (140mm) for a sedan this size; a little less than what you'd get on the BMW 5-Series (158mm) and 3-Series (157mm.)
Model 3 Software and Hardware Specifications
Tesla software will be updated to v9.0 in September 2018. Version 9 is the update that promises to start introducing FSD (full self-driving capability) features. A full feature-set for FSD will only come in v10.0.
FSD itself will require an upgrade to Hardware 3.0, and that's only expected to arrive either before Christmas 2018 (earliest), or in February 2019 (latest.) The Hardware 3.0 upgrade won't be required for customers with the EAP package, only the EAP+FSD package, which comes at a combined price of $8000 if ordered prior to delivery, or as a $10,500 upgrade after delivery.