AWS is currently the highest net income earner for Amazon and continues to deliver double-digit net income.
Over the past three years, it has shown tremendous growth and profitability, and has been a support unit for Amazon's overall profitability.
AWS is now a market share leader in the Cloud Infrastructure-as-a-Service segment, and experts say it will continue to dominate the space.
As a technology-based retail company, IT infrastructure could have easily become one of Amazon's (NASDAQ:AMZN) biggest cost items, but Amazon deftly worked around it and converted a cost center to a profit-making business that is growing at such a speed that it is already making its presence felt in the company's bottom line.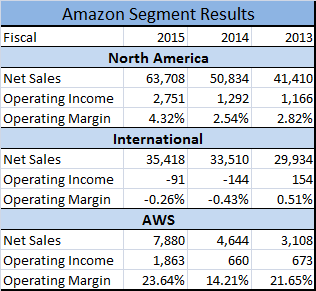 Amazon Web Services is the most profitable segment for the company, having brought in $1.86 billion in operating profits in 2015 at an eye-popping double-digit margin.
To put that in perspective, Amazon's North America segment earned nearly eight times that for an additional operating profit of only $1 billion – a total of $2.75 billion.
Continue reading at Seekingalpha.com where the original article was published.